This post brought to you by P.F. Chang's. All opinions are 100% mine.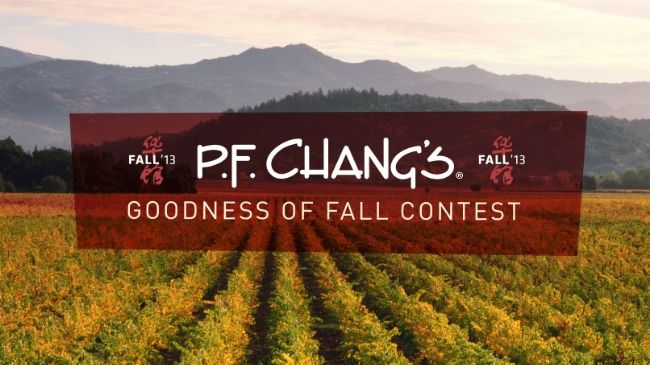 My husband and I recently celebrated our 2 year wedding anniversary at P.F. Changs.  We had such a yummy and special dinner together and I was excited to see they are offering a new Fall Seasonal Menu.  For a limited time you can enjoy these festive items:
Ginger Jalapeno Mule and Apple Cinnamon Martini

Pumpkin Dessert Wontons

Apple Cinnamon Martini

Apple Dessert Wontons

Shanghai Waldorf Salad

Crispy Korean Chicken Wings

Miso Chicken

Harvest Vegetable Quinoa "Fried Rice"

Vietnamese Noodles with Steak & Shrimp

Citrus Mustard Prawns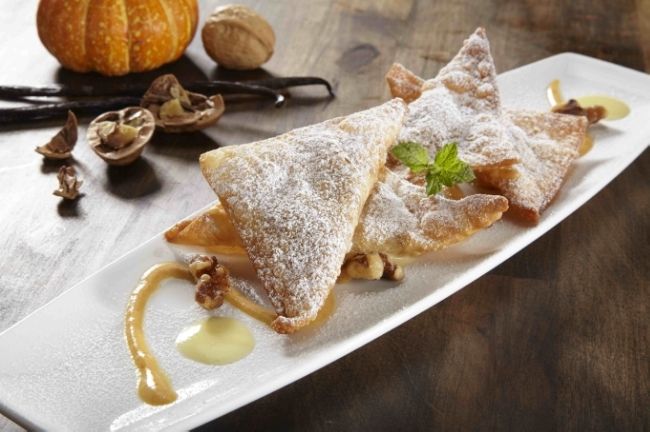 P.F. Chang's is also hosting The Goodness of Fall Contest.  Contestants will create at least 3 unique fall dishes highlighting 3 of the seasonal ingredients that are used on the new Fall Seasonal Menu. The top 5 recipes will then be submitted to a panel of judges for a chance to win the grand prize!  Prizes include: a $50 daily P.F. Chang's gift card winner; The grand prize winner and one lucky guest will win a two-night trip to Napa in Spring of 2014, including an exclusive visit to the guest house at a Napa Valley vineyard where judges Philip Chiang and Yuji Iwasa will be cooking some of their favorite dishes. Director of Beverage Mary Melton will also be there, guiding the winners through an extensive wine tasting. It's a once-in-a-lifetime Napa Valley getaway!
I'm so excited about the following seasonal items that I was inspired to whip up something for lunch using 3 of the following ingredients:
Flank Steak

Butternut Squash

Corn

Brussel Sprouts

Red Quinoa

Kale

Candied Walnuts

Chinese Broccoli

Asian Mushrooms

Green Apples

Daikon Sprouts

Prawns

Fresno Peppers

Scallions
I thought scallions, green apples, and candied walnuts (that I even candied myself) would go great together in a lunch salad.
I started with a bed of baby spinach and added shredded carrots, green apple slices, chopped scallions, and sprinkled on the candied walnuts and even some cherry craisins.  I love to eat salads like this with a zesty Italian dressing because it really pulls all the flavors together, so that's exactly what I did.
Be sure to check out P.F. Chang's Facebook page.  Post your own recipe on their FB wall to be entered in for a chance to win the Napa Getaway AND there's a special printable offer that saves you $10 of $40.  Follow @pfchangs and Follow P.F. Chang's on Pinterest so you don't miss out.
What new Fall items are you most excited to try?